The objective of the Cambourne Parish Plan is to set out a vision of how the community wants to develop and identifies the actions needed to move towards the vision.
Why?
It gives everyone a chance to say what they think about the issues affecting their community
It helps to identify which features and local characteristics people value
It identifies local problems and opportunities
It contributes to the way local services are managed and delivered
It can complement local planning policies and frameworks
It spells out how residents want the community to develop in the future
It prioritises the actions that need to be taken in order to achieve the community's vision
The Cambourne Parish Plan is a Parish Council supported project, in which we (a steering committee made up of 12 residents and 3 Parish councillors) are responsible for undertaking a consultation with the entire community to produce an evidence based guide, written by the community and given to the Parish Council that sets out how residents want to see our community here in Cambourne grow and develop. This document will allow the Parish Council to understand what is needed in Cambourne over the next 10 years and prioritise its spending of our Parish Council precept to best effect.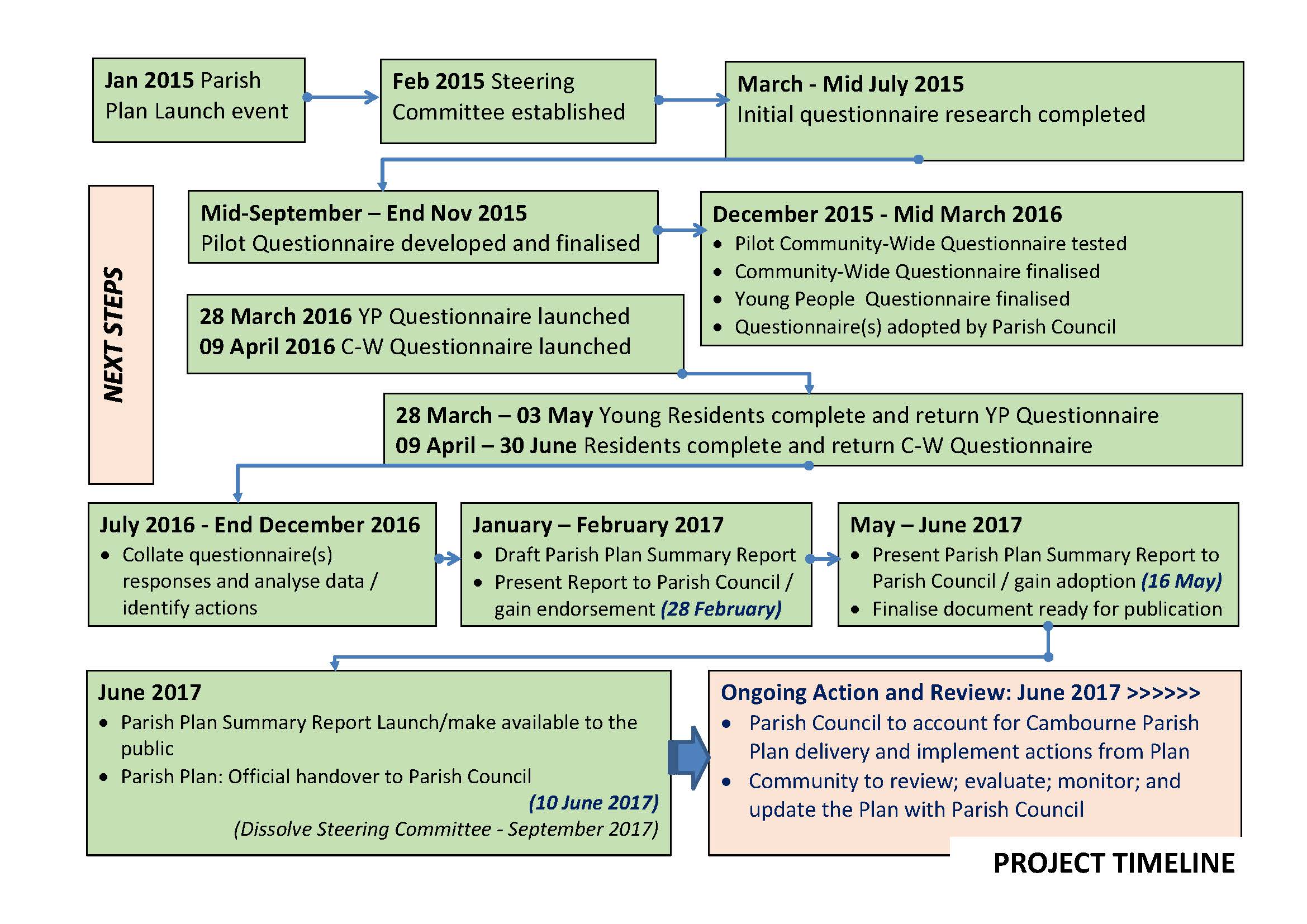 PROJECT FINAL STEPS
Questionnaire Response Data
The responses and data from the Cambourne Parish Plan Community-wide Survey and the Young People Survey back in the summer of 2016 has been analysed and summarised into a Report (Parish Plan Summary Report).
The survey findings and actions in the form of the Parish Plan Summary Report were presented to the Parish Councillors at a special meeting at the end of February 2017.
Following its adoption, the document was then finalised taking into consideration the Councillors comments and adopted actions and further presented to the Parish Council in May 2017 at which Council meeting the report was then endorsed by the Councillors.
We are now able to share the final report with you all and this summary document is published as the "Cambourne Parish Plan".
Community Plan - Production
The "Cambourne Parish Plan" (Parish Plan Summary Report) covers amongst other things, what you the community have identified as being important to the ongoing development of Cambourne and sets out the actions adopted by the Parish Council that need to be taken in order to achieve the community's vision.
The "Cambourne Parish Plan" is being printed and published during June 2017 and following the official Launch event and handover to the Parish Council (10 June 2017) will be out in the public domain soon after. It is the intention of the Parish Council that a printed copy will be delivered "through every letter box" in Cambourne.